Support Plus
Support Plus is one ideal platform to manage your customers, provide them timely service without you personally putting any reminder efforts, manage your inventory and get stock notifications
Successful Expansion : Business are expanding today and for successful expansion and to remain on top in this competitive era you need a strong system which can help you to survive and be the best out there. Support Plus is just what you need, it helps you to give decorous way to regain customer and also gain new customers.
Ideal Platform : Support plus is one ideal platform to manage your customers, provide them timely service without you personally putting any reminder efforts, manage your inventory and get stock notifications. It also helps to track your finance with our most accurate receivable and payment due modules whereby you can track which payments are due and hence maintaining your money wisely.
Preventive Management System : In any service industry Preventive Management System (PMS) is back-bone of the industry and our PMS module has always made an impact in increase in sales and customer retention by providing timely service on scheduled intervals. With our SMS and Email facility customers are always made aware about their service contracts expiration and way to renew them.
Employee Performance Management : Sitting on the top of hierarchy you need reports and our excellent reporting system does it for you in one click. Employee Performance Management, client wise expense detail on service call and may more day – to – day reports. All in all, you need is Support Plus to establish, expand, nurture and be a successful service provider in the industry with just few clicks and the better half you do not need to be tech-savvy.
Our Software Support and Provides following Important Reports
Sales Reports
Renew Contract Reports
Complaints Reports
Pending Complaint Reports
Payment Reports
Customer Reports
Employee Reports
Employee / Product Performance Reports
AMC Reports
PMS Reports
Product Reports
Component Requisition Reports
Top Complaints / Visit Reports
Service Cost Reports
Management Reports
Escalation Reports
Stock Reports
We will support you for the following business domain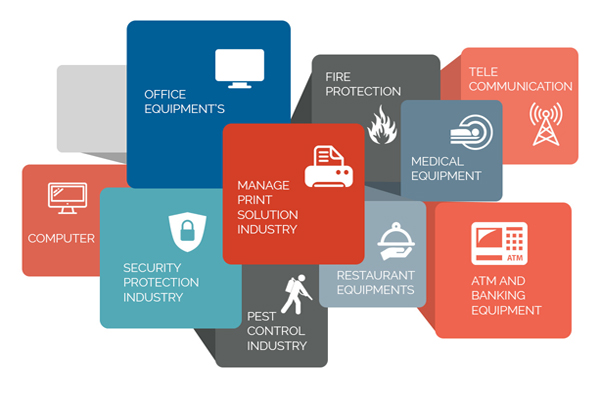 Support plus has a motto of giving something extra by going an extra mile and we have exactly come up with something that will boost your brand by having a web interface to log complaints instead of calling and registering them. This can be done through our Customer Self Service portal.
Why Support Plus?
Forward Compatibility : Our off-the-shelf, standard product could well suit you to start with, but over time you may find you need to add users or functionality. We have designed Workpro to be exceptionally flexible, so your solution can adapt and grow with your business needs.
A Safe Choice : We have been in the complaints handling market for over a decade and SUPPORTPLUS is the result of this wealth of experience, both our own and our customers. Regular user feedback informs our product development. SUPPORTPLUS is a polished, secure and robust product.
The friendly experts behind it : SUPPORTPLUS is developed and supported by CAS, an employee owned company. Your satisfaction is our future and it shows in our approach. Friendly, professional and approachable, our aim is that your solution is exactly what you really need.
Product Development Investment : We invest heavily in the development of SUPPORTPLUS, proactively adding new features to reflect the latest developments in technology and industry practices, as well as in response to user feedback and requests.
We Deliver as promised, and more : As we are a smaller company, our clients enjoy close working relationships with our staff. You will not be passed from department to department,
Features
Man-Power Calculation : One of the most important feature of our application which gives you how much money you have spent on one call and is the service contract actually giving you Profit or taking you to dumps. It is best way to know value and the cost of each contract.
Complaint Management System : Convert customer complaints into an improvement powerhouse. Save time and money on your everyday tasks. Increase customer satisfaction by attending and solving customer complaints instantly. This will help to reduce repetitive customer complaints.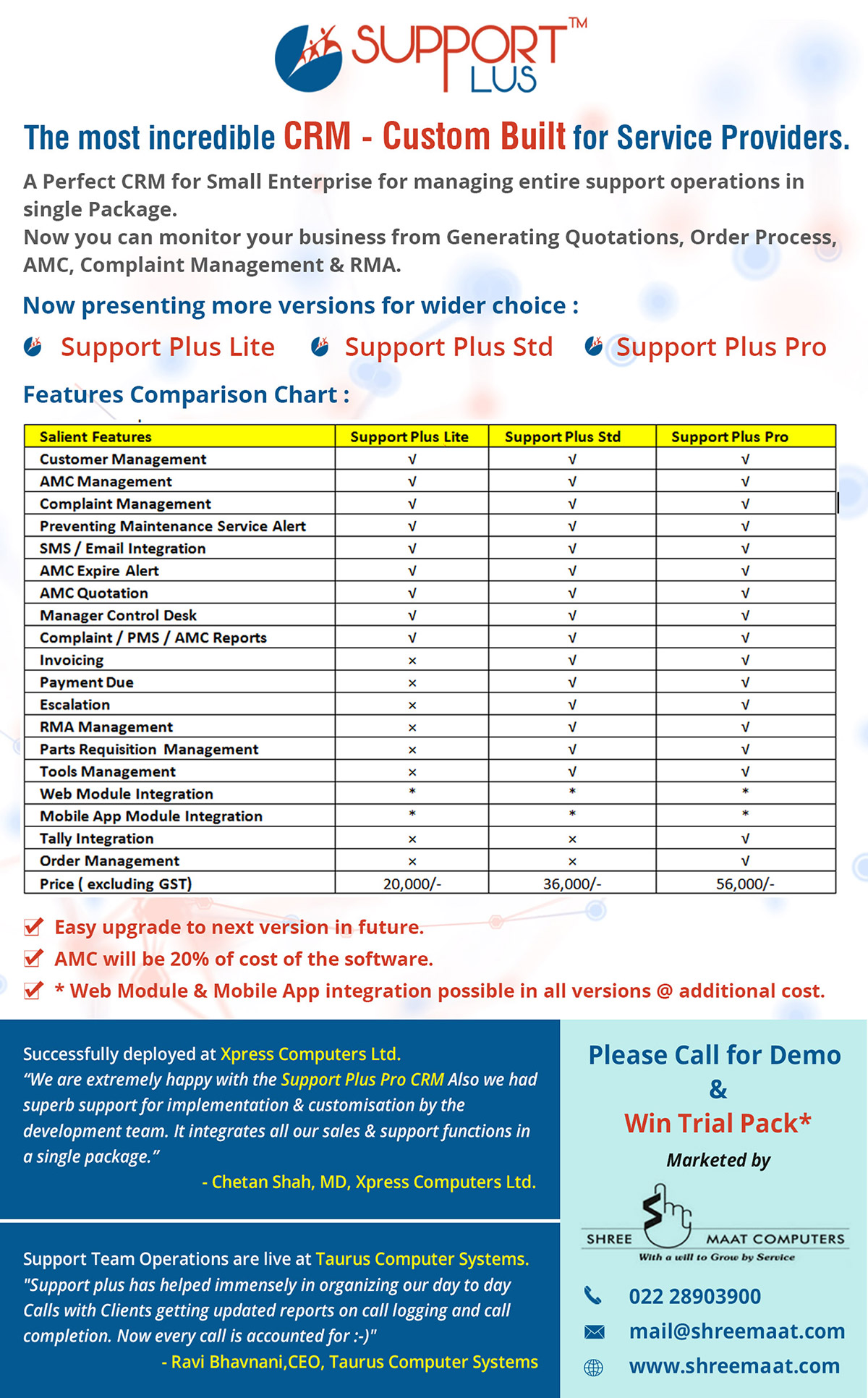 Accurate Monitoring of Resources : Whether its goods or employees we have everything in place where you can monitor each and everything as per your business domain.
Paperless Office : In this modern world, it has now become a status to be digitized and Support plus gives you the best way to take your paper bound office to paperless office.
Strong Reporting : 300 + Reports which can be exported to Word, Excel and PDF.
Simplified Billing : Never miss on a bill, as it is the most important entity of a service industry. With our strong billing system, you can generate, edit and rectify bills with just few clicks.
Revenue Tracking : Our reporting system of outstanding payment with its due date helps to analyses and make decisions based on which can help you to strategize your coming month.
Be Fair, Be Consistent : SUPPORTPLUS guides staff through a best practice case handling process so every customer is handled in a consistent, fair manner. It ensures procedures are correctly followed and timescales met.
Be in Control, Minimize Risk : Workload and performance management tools keep cases on track and ensure everyone knows exactly what needs to be done, when and by whom. Everything is kept in one place - all stored, secure and searchable.
Support Plus Smart Technician : Don't wait for your service team to return to the office with paperwork in order to complete a service call and prepare an invoice. Leveraging your technician's smart phone, tablet or laptop provides real-time access to open service tickets, customer data, service history and more.